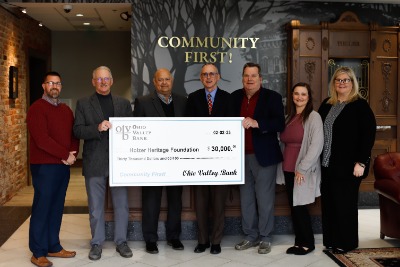 '
February 9, 2023
GALLIPOLIS – Ohio Valley Bank recently donated $30,000 to the Holzer Heritage Foundation.
The Holzer Heritage Foundation is a nonprofit 501(c)3 charitable organization overseen by a board of directors composed of local citizens. Through donations, the foundation works to advance health services, programs, education and facilities that benefit the local area.
OVB's support will help the foundation's current project, which involves the renovation of inpatient rooms at the Holzer Gallipolis campus.
"We are pleased to receive such wonderful support for our inpatient room renovation project," Brent Saunders, chairman, board of directors, Holzer Health System, said. "Currently we have several inpatient rooms that need renovated to make them a more modern, comfortable environment for our patient care. Our staff continue to provide the very best care and enhancing the environment for our patients will enhance the recovery of our patients."
For more information on the Holzer Heritage Foundation, contact Amee Rees, foundation director, at 740-446-5065 or email arees@holzer.org.
Ohio Valley Bank, which operates 17 offices and was established in 1872, is an FDIC-insured community bank based in Gallipolis, Ohio, and is a state member bank of the Federal Reserve. Common stock for the bank's parent company, Ohio Valley Banc Corp., is traded on The NASDAQ Global Market under the symbol OVBC. More information can be found at Ohio Valley Bank's website at www.ovbc.com.