When your bank focuses on Community First! 
Why bank anywhere else?
What is Community First?
It's a mindset, a way of life, a commitment, a determination to make a positive difference in the communities in which we live and work.  "Community First" represents many ideas, thoughts and actions, but most importantly, it represents our future.  The future of our communities is in our hands, and there's no better way to secure our future than by putting the "Community First" in every decision we make and every action we take every day. Our job at Ohio Valley Bank is to help our community thrive.
Whether it is breaking a little sweat for everything from
| | |
| --- | --- |
| | |
| laying railroad track for a local museum | |
| | to building houses with Habitat for Humanity, |


or using our network and experience to provide needed resources,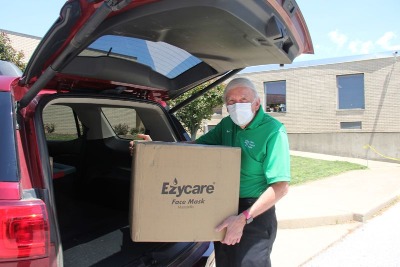 (like when Mario delivered 5,000 free masks to Pleasant Valley Hospital staff at the height of the pandemic)


or inspiring others to shop locally,
(like monthly Buy Day Fridays when your community bankers take a group shopping excursion to a local store)
or opening our doors for fun, free activities and events to brighten your day,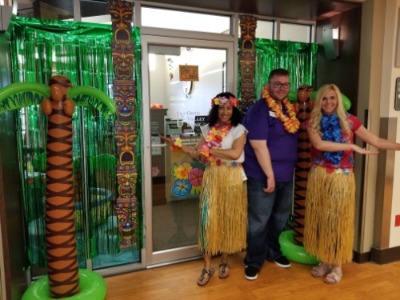 (like when Shelan, Micah, and Kathy pulled off this island themed appreciation day at the OVB Banking Center at Holzer)
or teaching our children to save before they learn to spend,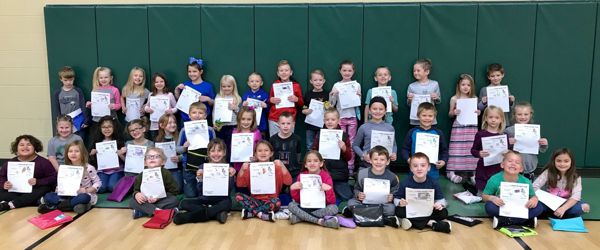 (like when Green Elementary students made their own savings plans through the award-winning curriculum provided free by OVB)
or finding small ways to show the members of our community how much we appreciate them,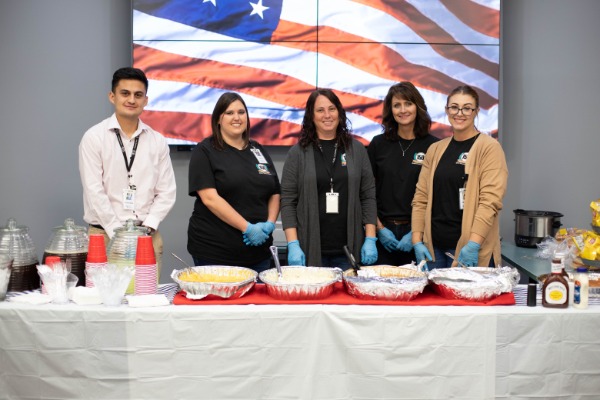 (like the annual lunch we provide for Veterans)
when there is good work to be done, you will find someone from OVB close by.
How will you put your Community First this week? Post about it on social media. Don't forget the hashtag #communityfirst and tag @OhioValleyBank
Impact Days
By declaration from Chairman and CEO Tom Wiseman, each Ohio Valley Bank employee is entitled to up to three days out of the office every year to work on a community service project. If you know of a way we can help, email us at communityfirst@ovbc.com. 
Our bankers have spent over 15,000 hours in service to charities and community projects since the Impact Days program was established. No job is too big or too small when it benefits our community.  
Charitable Giving
Ohio Valley Bank believes so much in its community, that it gives back hundreds of thousands of dollars every year to local organizations. Do you know a charity in need? Ask for a Donation Form at any of our branches.
Community Cards
OVB offers debit card designs representing over 30 local charities and schools. At least 50% of the upgrade fee goes back to the charity or school. Check out our current designs available at all locations.
Affordable Checking for Non-Profits & Clubs
All the perks and none of the extravagant fees. OVB's Community First Checking is subsidized by the bank so there is no monthly fee. Offered as part of the bank's Community First mission to help our communities not only survive but thrive.