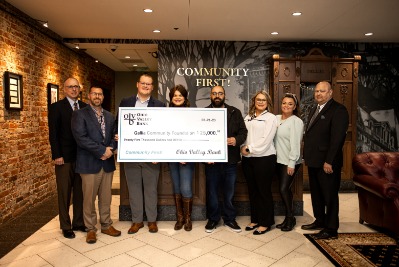 February 3, 2023
GALLIPOLIS – Ohio Valley Bank recently donated $25,000 to the Gallia Community Foundation.
Through the bank's Community First mission, OVB is dedicated to supporting the areas they serve. This mission is closely aligned to what the Gallia Community Foundation is working to accomplish in the area. The foundation's goal is to enrich the community, improve the standard of living and preserve the unique culture of the community.
As the Gallia Community Foundation is a fund within the Foundation for Appalachian Ohio, OVB's donation will also be matched. Nick Roach, Gallia Community Foundation member, praised the bank's support.
"Community First! We cannot begin to thank Ohio Valley Bank for their continued support of not only the Gallia Community Foundation, but every other organization in our community trying to make this place we call home just a little bit better. As a fund within the Foundation for Appalachian Ohio, OVB's generous donation will be matched creating twice the opportunity for Gallia County. It is the Gallia Community Foundation's mission, along with the Foundation for Appalachian Ohio to continue to invest in our pillars of prosperity and foster a community abundant with possibilities. This would not be possible without the partnership of OVB and so many others," Roach said.
The Foundation for Appalachian Ohio works to improve the quality of life in southeast Ohio, and for the past 12 years the Gallia Community Foundation has been Gallia County's arm for the Foundation for Appalachian Ohio's mission. Last year, the Gallia Community Foundation was able to secure more than $75,000 in gifts and pledges from various donors and fundraising efforts for the endowment fund. Each year, four percent of the fund's total value can be awarded to organizations serving crucial needs in the community, such as the John Gee Black Historical Center, the Economic & Community Development Institute and God's Hand at Work.
Those interested in supporting the Gallia Community Foundation fund may do so online by visiting https://appalachianohio.org/grow/funds/community-funds/gcf/.  
Ohio Valley Bank, which operates 17 offices and was established in 1872, is an FDIC-insured community bank based in Gallipolis, Ohio, and is a state member bank of the Federal Reserve. Common stock for the bank's parent company, Ohio Valley Banc Corp., is traded on The NASDAQ Global Market under the symbol OVBC. More information can be found at Ohio Valley Bank's website at www.ovbc.com.