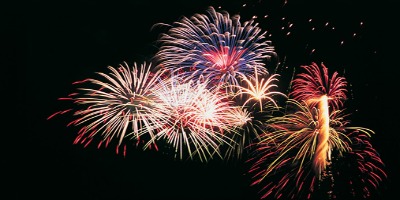 July 1, 2022
Summer is in full swing. In addition to soaking in the warm sunshine, summer is also time to celebrate our nation's Independence Day.
There are several events taking place in our communities this weekend to ring in the Fourth of July in patriotic fashion. In Jackson, Ohio, the Freedom Fest 5K, which has become an Independence Day tradition, is set for 9 a.m. Saturday. Those who did not register online may do so in person at 8 a.m. prior to the race, which will start and finish on E. Main St. at Manpower Park. Celebrations continue on Sunday in Jackson with the parade, slated for 8 p.m. on Broadway St. Fireworks, set for 10 p.m., will close out the evening.
Celebrations in the Bend Area will take place Saturday with the Mason/New Haven Fourth of July Parade. The parade will begin at 11 a.m. in New Haven, W.Va. Those looking for a historical celebration will be interested in Liberty Day, which is also set to take place Saturday from 11 a.m.-5 p.m. at Fort Randolph, located in Point Pleasant, W.Va.
Across the river in Pomeroy, Ohio, a celebration of American Independence will take place Saturday at the levee. Food vendors are scheduled to open at 9 a.m. with activities set to begin at 4 p.m. with a car show. The event will feature entertainment, including inflatable bounce houses and music. Fireworks will cap off the evening at 9:45 p.m. Milton, W.Va., will also host their Independence Day Celebration Saturday from noon-3 p.m. at April Dawn Park. The celebration will include music, inflatables, games, sand art, free hotdogs and more.
Point Pleasant's Liberty Fest will kick off 6 p.m. Sunday at Riverfront Park with the Praise Along the River event. Praise Along the River will include speakers from local churches as well as music. Liberty Fest continues on Monday with a variety of events, including a parade set for 6 p.m. The West Virginia University Mountaineer Mascot Mary Roush will serve as the parade grand marshal. Fireworks will close out the evening at 10 p.m.
The River Recreation Festival in Gallipolis, Ohio, kicks off Sunday with a 9 a.m. church service at the City Park. The opening ceremony will take place at noon with activities to follow, including the Rotary Mile set for 3:30 p.m. and the parade scheduled for 4 p.m. Events continue 8:30 a.m. Monday with the Baby Tot. Free inflatables will be set up from 10 a.m.-noon and 4-8 p.m. Fireworks will cap off the annual event at 10 p.m.
In Wellston, Ohio, the Celebration of Our Nation event will take place Sunday. Action gets underway at 3 p.m. on Main St. Activities include a parade, slated for 7 p.m., as well as an apple pie contest and a patriotic art contest. Fireworks, scheduled to start between 9:45 and 10 p.m., will close out the festivities.
More patriotic action is set for Monday in Racine, Ohio, with the annual BBQ at the fire department. The event will begin at 11 a.m. and will include a variety of yummy dishes, including chicken halves. Homemade ice cream will be available for purchase as well. Activities continue at Star Mill Park with a water slide, which will be open from 4:30-8:30 p.m. The event will feature various games and a parade, set for 7:30 p.m. Fireworks, scheduled for 9:45 p.m., will bring the celebration to a close.
In Middleport, Ohio, the annual Fourth of July celebration will kickoff with a parade set for 6:30 p.m. Action continues at the Diles Park with music from the Meigs Marching Band and a flag raising ceremony, which will be led by Feeney-Bennett Post no. 128. Fireworks will follow at 9:30 p.m.
The WingDing event will get underway Monday in Piketon, Ohio. Fireworks are set to launch around dusk at Piketon High School. Barboursville, W.Va. will also host Fourth of July fun on Monday with local food trucks and the annual fireworks display, scheduled for 10 p.m. at the Brickyard.
For more information on Independence Day celebrations in your community, contact your local chamber or city officials.
From all of us at OVB, we wish you a safe and happy Fourth of July!