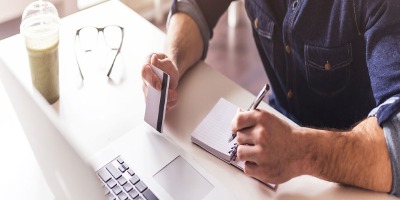 August 30, 2021
The pumpkin spice might be taking over already, but summer is very much still in full swing. More people have felt comfortable traveling this year, with many folks expected to hit the road this week for Labor Day weekend.
While it's been great to travel once again, unfortunately fraudulent scams continue to be on the rise. Whether they be travel-related scams, phishing or other examples of financial fraud, it is important to protect your information and know what to do should you become a victim of such incidents.
Common travel scams include the following:
"Free" vacation scams. Vacations are very rarely free. Often this scam will claim that you need to pay for the "prize", which is the "free" vacation. No legitimate company ask customers to pay for a prize. In addition, if a vacation is advertised as free, it usually means there are hidden costs involved, such as transportation expenses, taxes and other undisclosed fees.
Third-party booking site scams. If you book hotel, airfare or additional travel on a third party site, use caution. Research the legitimacy of the company as many scammers will set up sites as an attempt to gain access to unsuspecting travelers' financial information.
Wi-Fi hacks. If you are staying at a hotel, make sure to verify what the official network is with hotel staff. A common tactic many scammers use is setting up a fake Wi-Fi network as yet another effort to access victims' personal information. However, even hotel and/or airport verified networks can still pose a security risk. Most information technology experts recommend avoiding public Wi-Fi in general.
One way to protect yourself when traveling is to use a credit card for hotel booking and various expenses. Credit cards are typically a more secure method of payment and it can be easier to dispute unauthorized charges.
Outside of travel, Ohio Valley Bank BSA and Fraud Specialist Chris Brown said the three main scams popping up lately include unemployment fraud, mobile deposit fraud and elder financial exploitation.
"Unemployment fraud is one of the biggest fraud scams we've seen a lot of. This is when fraudsters have used an individual's name to apply for unemployment, even though that individual is still employed," Brown said. "The individual will receive a letter in the mail that they have applied for unemployment, even though they didn't. The unemployment funds are deposited into a third party account who then sends the fraudsters money via gift cards or money gram."
Should you experience unemployment fraud, the U.S. Department of Labor advises victims to report the incident to the state in which the unemployment identity theft occurred. Each state has a different process for investigating identity theft. Ohio residents should call 1-833-658-0394 or visit https://unemploymenthelp.ohio.gov/IdentityTheft/. While West Virginia residents are directed to call 304-433-8790 or 1-800-252-JOBS, option five. West Virginia residents may also report the incident by emailing reportunemploymentfraud@wv.gov.
As the pandemic has led more people to utilize online banking platforms, it has also unfortunately caused a rise in mobile deposit fraud. According to Brown, mobile deposit fraud happens when fraudsters have access to an individual's online banking credentials.
"The fraudsters deposit fraudulent checks into customers' accounts. The customers are sometimes given instructions on what to do with the money and are unaware that the check will most likely come back fraudulent," Brown said.
Should you become a victim of mobile deposit fraud, contact your bank immediately.
According to Brown, senior citizens continue to be a target group for various types of scams.
"Elder financial exploitation is still another one we see often. Lately, we have seen incidents where elderly customers correspond with fraudsters online or over the phone. Through the correspondence, funds are then deposited into their accounts and they are given instructions on what to do with the money," he said.
If you or someone you know believes to be a victim of elder financial exploitation, contact your bank.
As the pandemic continues, COVID-19 related scams are still popping up as well. Whether it be emails claiming to be a "cure" for the virus or fake antibody tests, it is important to be mindful of such activity. According to the Department of Health and Human Services, consumers should be on the lookout for the following signs of vaccine-related scams:
Requests for out-of-pocket payment to receive the vaccine.
Ads for vaccines in websites, social media posts, emails or phone calls.
Marketers offering to sell or ship doses of the COVID-19 vaccines.
Those seeking accurate information on the COVID-19 vaccine, should visit www.vaccines.gov.
If you believe you have been a victim of fraud and/or identity theft, visit the Federal Trade Commission website for information on what steps to take at www.ftc.gov.