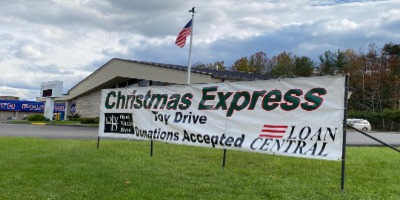 November 5, 2021
Community First is at the center of Ohio Valley Bank. One tradition that takes this mission to heart is the bank's Christmas Express program.
OVB's Christmas Express has been helping local children in Gallia County for 11 years. Headed up by Brenda Henson and Angie Kinnaird, the program has provided toys, clothing and coats to more than 1,200 children in need ranging from newborn to 18 years of age.
The program got its start in 2010 when Henson expressed her vision to fill up a 53 foot semi-truck with toys and coats for area children in need. Kinnaird thought the idea was fantastic and joined forces with Henson to try and make the project a reality. They brought their vision to Tom Wiseman, OVB current chairman of the board and CEO, and Jeff Smith, who then served as chairman of the board and CEO. Through the added support of Wiseman and Smith, the OVB Christmas Express became a reality.
OVB's Christmas Express has continued to evolve over the years. In 2019, the program became an official 501(c)(3) non-profit organization, which provides more opportunities to apply for additional donations from other companies and organizations. While the semi-truck is no longer parked at the bank's Main Office in downtown Gallipolis, OVB's Christmas Express is stronger than ever thanks to community support.
All OVB and Loan Central locations are currently collecting donations for Christmas Express. Donations can either be monetary or an unwrapped, new toy. Donations will be accepted until Friday, Dec. 10. In addition, OVB's Christmas Express will be represented in the upcoming Gallipolis Christmas Parade on Saturday, Dec. 4 at 1 p.m.
"It's not just Brenda and I, it's each and every one of you that provide your time, donations and support that make the Christmas Express successful each year," Kinnaird said.
From all of us at OVB, Happy Holidays!