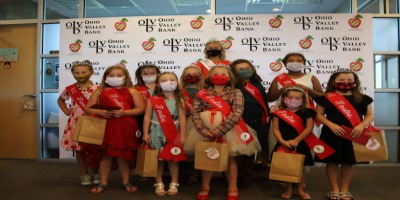 September 17, 2021
After a year hiatus due to the pandemic, the Jackson Apple Festival is finally back in action starting Tuesday, Sept. 21.
Also making a comeback is the outgoing Little Miss Apple Festival exhibit at the Ohio Valley Bank Jackson Office, which features 2019 title holder Kennedy Knittel. Due to the cancelation of last year's Apple Festival events, Knittel retained her title in 2020. Her display, which features some of her favorite dresses worn during her reign, was officially opened with a private ribbon cutting ceremony at the bank. The display also includes a scrapbook and pictures of Knittel representing the Apple Festival at various events, and a photo area with 80th Apple Festival background.
Those interested in seeing the display may do so from 9 a.m.-3 p.m. Monday through Friday during lobby hours. The display will remain open through the duration of the festival.

OVB Assistant Vice President and Region Manager of Jackson County Joe Wyant presented Knittel with a gift to celebrate her two-year reign. Knittel is the daughter of Chad and Brittny Knittel. In addition to honoring Knittel, Wyant also recognized this year's Little Miss Apple Festival finalists.

This year's finalists are Callie Baisden, daughter of Tyler and Brittany Baisden; Carlie Baisden, daughter of Tyler and Brittany Baisden; Alivia Brown, daughter of Josh and Tashina Brown; Hayzlee Brown, daughter of Austin and Brianna Brown; Natalie Harwood, daughter of Jason and Kylee Harwood; Tyleah Henderson, daughter of Jon and Tina Ison; Hadly House, daughter of Brandon and Katie House; Saydie Newkirk, daughter of Kristin Bierhup and Michael Newkirk; Makayla Simpson, daughter of Joseph and Heather Simpson; and Annabelle Trumble, daughter of Jaimie McCown-Perry and Raymond Perry.

Ohio Valley Banc Corp. owns the subsidiaries of Ohio Valley Bank, with 16 offices in Ohio and West Virginia; Loan Central, with six consumer finance offices in Ohio; and Race Day Mortgage, Inc., an online-only, consumer direct mortgage company. Ohio Valley Bank, established in 1872, is a FDIC-insured community bank based in Gallipolis, Ohio, and is a state member bank of the Federal Reserve. Common stock for Ohio Valley Banc Corp. is traded on The NASDAQ Global Market under the symbol OVBC. More information can be found at Ohio Valley Bank's website at www.ovbc.com or Facebook page at www.facebook.com/OhioValleyBank.