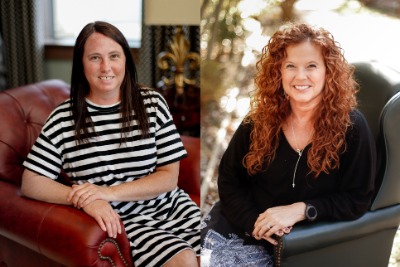 April 4, 2023
GALLIPOLIS – Ohio Valley Bank recently announced the promotions of Terri Camden and Jody Stapleton.
Camden was named OVB vice president, director of human resources. She began her career at the bank in 1998 working as a teller at the OVB Rio Grande office. Camden accepted a role in the bank's human resources department in 2001, where she worked as a payroll specialist. She has since held a variety of other positions within the department.
OVB President and Chief Executive Officer Larry Miller described Camden as being more than ready to take on her new position.
"Terri has spent the entirety of her career in the human resources department learning the finer points of human resource management. I am confident our company is in good hands as Terri takes the reins of leadership in the department," Miller said.
Camden is a graduate of River Valley High School and a 2001 graduate of the University of Rio Grande, where she earned her Bachelor of Science in business management. She is also a 2006 recipient of the Joy Barlow Award, OVB's highest honor. She is a member of the Harris Baptist Church.
Stapleton was recently named OVB assistant cashier, account services manager. She began her career at OVB in 2007 working as superbanker III. In February 2022, Stapleton was promoted to manager account services.
Miller described Stapleton's leadership skills as being beneficial to her new role.
"During her career, Jody has willingly accepted new responsibilities and assignments benefiting the bank and its customers. In her new role, she will provide leadership to both the customer service representatives and the account services representatives," Miller said.
Stapleton is a graduate of Huntington East High School and Marshall University. She obtained her associate degree in banking and finance. During her time at OVB, she also completed the Integrated Leadership Systems Leadership Program. She is an active member of Mercerville Baptist Church.
Ohio Valley Bank, which operates 17 offices and was established in 1872, is an FDIC-insured community bank based in Gallipolis, Ohio, and is a state member bank of the Federal Reserve. Common stock for the bank's parent company, Ohio Valley Banc Corp., is traded on The NASDAQ Global Market under the symbol OVBC. More information can be found at Ohio Valley Bank's website at www.ovbc.com.