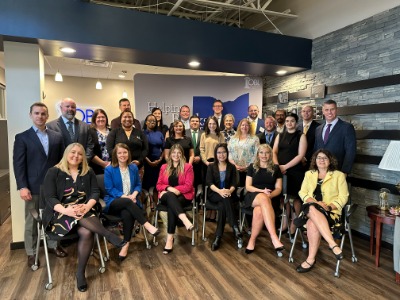 May 30, 2023
GALLIPOLIS, Ohio – Two Ohio Valley Bank employees recently graduated from the Bank Leadership Institute, a two year program hosted by the Ohio Bankers League (OBL).
Ben Pewitt, OVB vice president, business development commercial banking group, and Joel Elliott, OVB Jackson Pike Office branch operations manager, were among several bankers across the state of Ohio to graduate from the prestigious program.
Pewitt has worked in the banking industry for 12 years. He is a Magna Cum Laude graduate of Gardner-Webb University, where he obtained his bachelor's degree in business administration. He also earned his Master of Business Administration from Marshall University. Pewitt completed the American Bankers Association's Commercial Lending School as well as OVB's internal Integrated Leadership Systems program.
In his community, Pewitt is very involved and serves on the board of directors of the Huntington Regional Chamber of Commerce. He is the current president of the Barboursville Superior Chapter of BNI as well. Pewitt is also a member of the Redemption Church in Huntington. He currently resides in Barboursville with his wife and two daughters.
Elliott, who has 12 years of experience in the banking industry, began his career at OVB in 2017 as the branch operations manager of the bank's Rio Grande Office. He obtained his bachelor's degree in communication systems management and a minor in business from Ohio University. During his career at OVB, Elliott attended the Ohio Bankers League Next Gen Conference. He also completed OVB's internal Integrated Leadership Systems program.
Outside of the bank, Elliott enjoys coaching youth sports teams. He currently resides in Gallia County with his two sons.
Created by the OBL more than 25 years ago, the Bank Leadership Institute generates leaders who will strengthen their organizations through enhanced leadership, organizational and performance skills. Each session is concentrated on key learning activities for leadership skills development such as coaching and mentoring, leading and managing, team building and strengthening the personal foundation for leading others.
Ohio Valley Bank, which operates 17 offices and was established in 1872, is an FDIC-insured community bank based in Gallipolis, Ohio, and is a state member bank of the Federal Reserve. Common stock for the bank's parent company, Ohio Valley Banc Corp., is traded on The NASDAQ Global Market under the symbol OVBC. More information can be found at Ohio Valley Bank's website at
www.ovbc.com
.