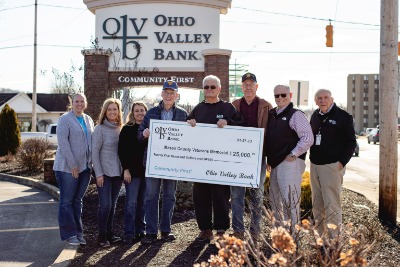 January 30, 2023
POINT PLEASANT, W.Va. – Ohio Valley Bank recently donated $25,000 to the Mason County Veterans Memorial.
The memorial will be located adjacent to the Bridge of Honor in Mason. Groundbreaking for the memorial took place in November. Mario Liberatore, president, Ohio Valley Bank West Virginia, said he was pleased to see the bank contribute to the project as showing support to veterans is very important to him personally.
"I am happy and proud to see this project succeed. I had two uncles killed in World War II and one wounded. I am also a veteran along with my older brother. We must never forget the ultimate sacrifice these men made to keep us free. Community First is what we do every day," Liberatore said.
Phase 1 of the memorial is projected to be complete by Veterans Day this year. The first phase will include a bronze statue of local Medal of Honor recipient Jimmy G. Stewart as well as a tribute to all the Mason County natives who have been recipients of that distinction. There also will be monuments honoring the Mason County veterans who were lost in battle from World War I to the present.
For more information on the Mason County Veterans Memorial, contact Steve Halstead at 304-895-3691.
Ohio Valley Bank, which operates 17 offices and was established in 1872, is an FDIC-insured community bank based in Gallipolis, Ohio, and is a state member bank of the Federal Reserve. Common stock for the bank's parent company, Ohio Valley Banc Corp., is traded on The NASDAQ Global Market under the symbol OVBC. More information can be found at Ohio Valley Bank's website at www.ovbc.com.