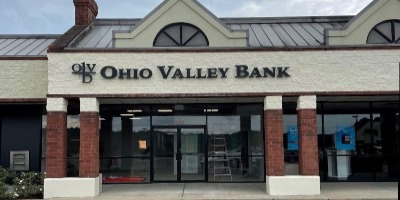 October 3, 2022
Terri Taylor, Lawrence County Region Manager, Ohio Valley Bank (OVB), recently announced the opening of a full-service bank branch in Ironton. This newest OVB office is located in the Ironton Hills Plaza and is the bank's 17th location.
As is Ohio Valley Bank tradition, the ribbon used for the Ribbon-Cutting Ceremony was made of U.S. bills strung end to end. The ribbon was valued at $500. After the ceremony, tradition holds that the money ribbon is donated to a local organization that can use the funds to make a positive impact within the community as part of the bank's ongoing mission to put "Community first." The community bankers of the new Ironton location chose the Ironton Lions Club to be the recipient of their money ribbon.
Also to celebrate the opening, OVB held a special grand prize cash drawing, giving away $150 cash to three lucky winners in honor of the bank's 150th anniversary. This drawing is in addition to monthly $150 cash prize drawings the bank has been holding all year long as part of its anniversary celebration.
OVB Ironton's Community First efforts began with the return of the OVB 4-H Scholarship Program to Lawrence County. The program annually awards a $3,000 college scholarship to a deserving 4-H member in the county. Brea Belville was named the 2022 Lawrence County 4-H scholar.
According to Taylor, another Community First effort in the works is to develop new local debit card designs. Through the bank's Community First Debit Card Program, bank customers can choose to upgrade the look of their debit card to a local school or charity design for a small fee and half of the fee goes back to the school or charity. Representatives from local schools or charities that are interested in this no-hassle fundraising option should contact the OVB Ironton Office or email
communityfirst@ovbc.com
for more information.
Those who wish to contact OVB Ironton may do so by calling (740) 547-5005. The bank lobby is open Monday through Thursday from 9 a.m. to 5 p.m. and Friday from 9 a.m. until 6 p.m. A drive-thru ATM will be coming soon.
Ohio Valley Bank, now with 17 offices, was established in 1872. OVB is a FDIC-insured community bank based in Gallipolis, Ohio, and is a state member bank of the Federal Reserve. Common stock for the bank's parent company, Ohio Valley Bank Corp., is traded on The NASDAQ Global Market under the symbol OVBC. More information can be found at Ohio Valley Bank's website at
www.ovbc.com
or on Facebook at
www.facebook.com/OhioValleyBank
.