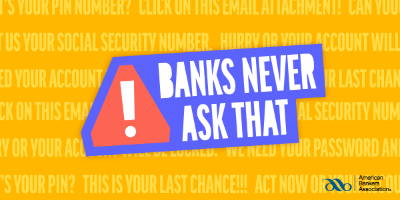 October 1, 2021
October brings spooky fun, but you shouldn't let common financial scams scare you. Aside from candy and ghosts, this month also showcases the American Bankers Association's (ABA) Banks Never Ask That anti-phishing campaign.
Ohio Valley Bank is joining financial institutions across the country to participate in this year's campaign. As scams, particularly those that involve phishing, have become more prevalent over the past year, OVB is utilizing Banks Never Ask That as another tool to educate customers on how to avoid becoming a victim of such events.
"Phishing attempts have become more prevalent during the pandemic making it more important than ever that consumers learn how to spot a scam," Paul Benda, senior vice president, operational risk and cybersecurity  at ABA, said. "With help from participating banks like OVB, we're teaching consumers how to spot phishing red flags so they can stay one step ahead of the scammers."
According to the Federal Trade Commission, consumers lost $3.3 billions to phishing schemes and other fraud in 2020, nearly double the losses in 2019. To combat phishing, the Banks Never Ask That campaign uses attention-grabbing humor and other engaging content to empower customers to identify bogus bank communications asking for sensitive information, such as passwords and social security numbers.
If you know what to look for, you can combat online scams and protect your information in the process. According to the ABA, here are the top three phishing scams:
Text message. If you receive a text message from someone claiming to be your bank asking you to sign in, or offer up your personal information, it is a scam.
Email. Watch out for emails that ask you to click a suspicious link or provide personal information. The scandal may claim to be someone from your bank, but it is a scam.
Phone call. Your bank would never call you to verify your account number. If you're ever in doubt that the caller is legitimate, hang up and call the bank directly at a number you trust.
All month long, OVB will be posting information to combat phishing scams, including red flags to watch for as well as helpful tips. In addition, posts will provide folks with many opportunities to test their own knowledge when it comes to phishing scams with the Banks Never Ask That quiz. For more information regarding phishing scams and how to stop fraudsters in their tracks, visit www.BanksNeverAskThat.com. Follow and like OVB on Facebook, Twitter and Instagram for Banks Never Ask That tips and additional bank related news.