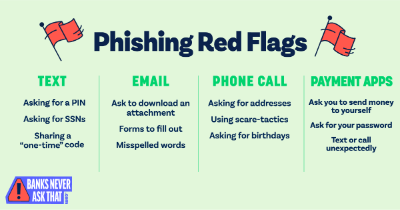 Oct. 18, 2023
Keeping our customers' personal financial information safe and protected is a top priority here at Ohio Valley Bank. To help raise awareness on the best practices customers can take to further protect their sensitive information from online scams, we have once again joined the American Bankers Association's Banks Never Ask That campaign.

Online scams are not as scary when you know what to watch out for. And here at OVB, we are committed to helping you spot them as an extra layer of protection for your account. By taking part in the Banks Never Ask That campaign, we are joining banks across the country in a nationwide effort to fight phishing – one scam at a time.
Through this campaign, we want our customers to learn to stop bank imposters in their tracks. By remembering that "Banks Never Ask That" we hope folks will be better equipped to avoid online scams.
Here are a list of phishing scams that are full of red flags:
Text Message: If you receive a text message from someone claiming to be your bank asking you to sign in, or offer up your personal information, it's a scam. Banks Never Ask That.

Email: Watch out for emails that ask you to click a suspicious link or provide personal information. The sender may claim to be someone from your bank, but it's a scam. Banks Never Ask That.

Phone Call: Would your bank ever call you to verify your account number? No! Banks never Ask That. If you're ever in doubt that the caller is legitimate, just hang up and call the bank directly at a number you trust.

Payment Apps: Beware of text messages from someone claiming to be your bank saying your account has been hacked. The scammer may ask you to send money to a new account they've created for you, but that's a scam! Banks Never Ask That.
For additional tips, videos and an interactive quiz to help you keep phishing criminals at bay, visit www.BanksNeverAskThat.com. Remember to share these tips with your friends and family as education is our best defense at beating scammers!