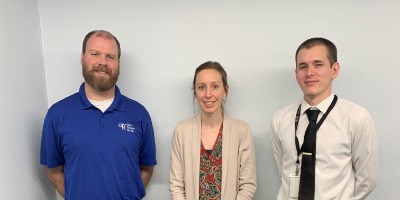 April 1, 2022
There are many factors that keep Ohio Valley Bank running. From shareholders to board members, OVB is able to continue working as an independent, community bank. Another factor that keeps the bank going? Our team of dedicated, community bankers.
In this edition of OVB Spotlight, we are introducing our compliance team. Our compliance department works tirelessly to make sure OVB stays up to date on both state and federal banking laws. As the banking industry evolves, these laws and regulations, which serve to protect all consumers, continually change. Our compliance team creates internal policies as well as provides education to all OVB bankers regarding these changes.
Get to know your OVB compliance team of community bankers: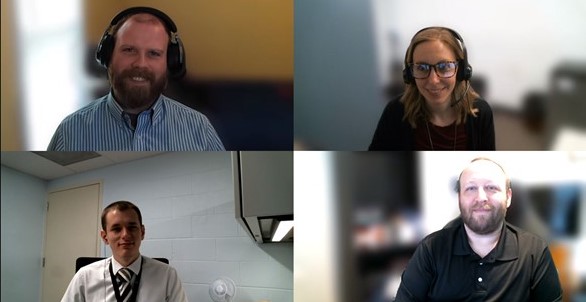 Daniel Roush, OVB vice president, senior compliance officer, will celebrate 14 years at the bank next month. Roush's primary responsibility is to manage compliance risks posed to the bank. He coordinates OVB's fair lending compliance program, which verifies that the bank's loan products are offered in both a fair and consistent manner to all applicants, regardless of race, ethnicity or gender. In addition, Roush works with his department to see that the bank adheres to the Community Reinvestment Act (CRA), which encourages banks to serve their local communities. When it comes to his work at OVB, he credits his co-workers as making his job enjoyable.
"I have an amazing team of direct reports. I couldn't imagine working without them," he said.
Through OVB's IMPACT program, Roush also volunteers with the local Habitat for Humanity organizations. Outside of work, he enjoys gardening, cooking, spending time with his dog, training for Run Disney races with his wife, and dabbling in creative writing.
Drew Hudson, compliance officer, will mark 10 years with OVB in April. Hudson's role within the compliance team is to coordinate the bank's CRA program. He also manages the daily operations of the Home Mortgage Disclosure Act (HMDA) compliance program as well as performs fair lending analysis within the department. Like Roush, Hudson described his team of co-workers as being one of the best parts of his job. He also said that he enjoys the analytical aspect of his duties.
"I enjoy doing statistical analysis that is part of my job function," Hudson said.
When he isn't working, Hudson likes to spend his time playing video games, watching sports, and hanging out with his wife and their dog.
Mary McKinniss, senior compliance analyst, has been part of the OVB staff for seven years. In her role with the compliance team, McKinniss conducts quality assurance reviews as well as assists with branch audits. She also fields regulatory questions from other OVB bankers. She described the opportunity to grow within her career as being the best part of her job.
"OVB has been more than generous to me during my seven years here. I have worked in three different areas, each of which were welcoming and gave me the opportunity for (career) advancement," she said. "OVB as also given me the work flexibility I needed after having my daughter in the middle of the pandemic. I am very grateful."
Outside of work, McKinniss enjoys listening to true crime podcasts and spending time with her husband, daughter and two dogs.
Jacob Wheeler, compliance analyst, has worked at the bank for six years. Wheeler's primary role within the compliance team is to complete quality control reviews in an effort to ensure the bank is following all set regulations. He also helps to update the bank's internal compliance policies and procedures. Wheeler described continuously learning new things as the best part of his job.
"I enjoy that I am always learning something new, whether that be about a regulation, something about the bank in general or tidbits about my co-workers," he said.
When he isn't at work, Wheeler assists his church, Grace United Methodist, with local mission projects. He also enjoys hiking, running and playing chess in his spare time.
Like many departments at OVB, our compliance team is another puzzle piece in what keeps the bank operating. Stay tuned for upcoming OVB Spotlight features to get to know more about your community bankers.