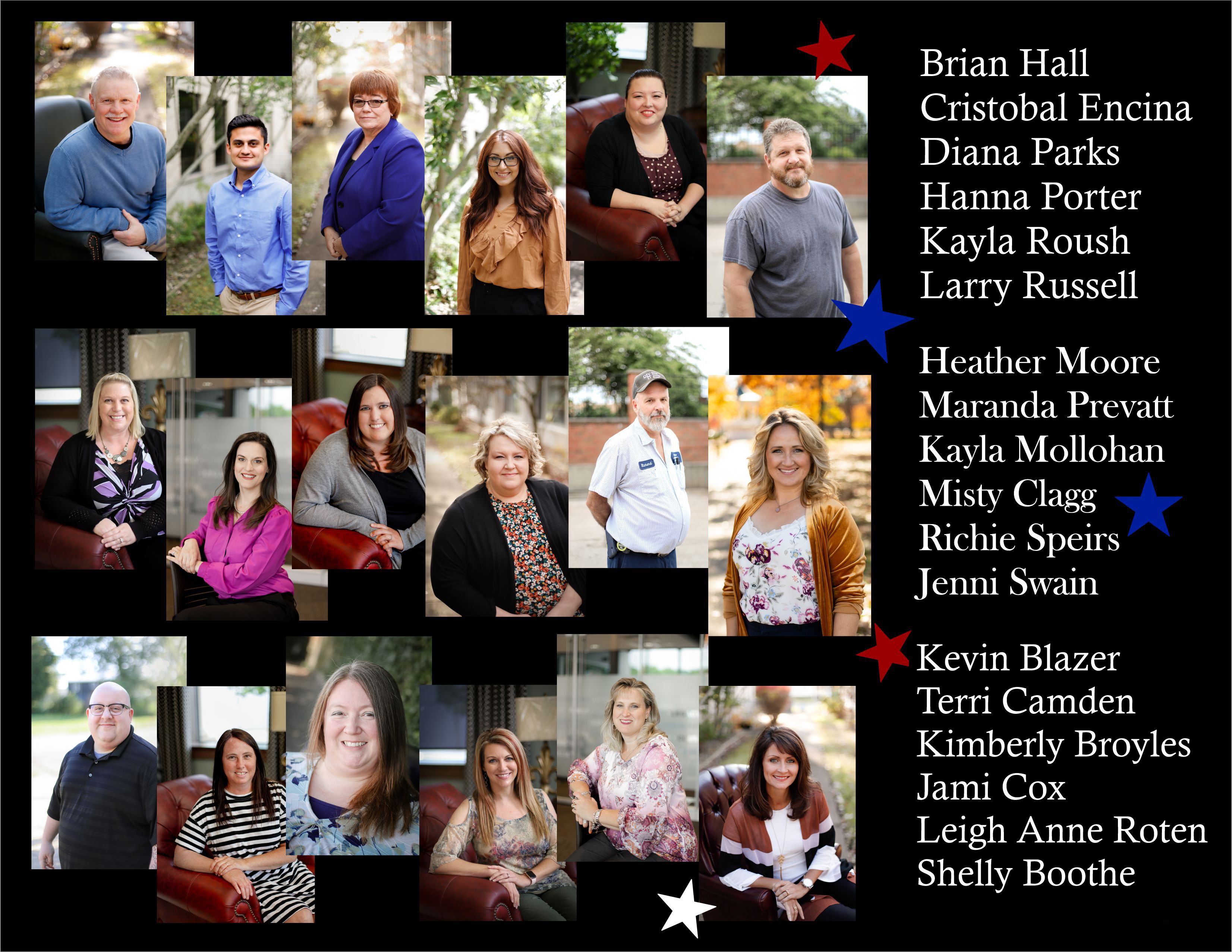 November 10, 2022
One of the main reasons we are able to enjoy the freedoms we have in this great nation is thanks to our veterans. To express our gratitude as well as help local veterans, the Ohio Valley Bank Veterans Action Committee was created. In this special edition of OVB Spotlight, learn why veterans mean so much to members of the committee.
The Veterans Action Committee is comprised of OVB bankers across various departments and locations. The group's focus is to support area veterans. This is accomplished by hosting donation drives and events. The Annual OVB Ruck Walk, which is held each summer in Gallipolis, Ohio, is one of the committee's passion projects. This year's walk proceeds were donated to the following organizations: Gallipolis VFW, DAB Chapter 141, American Legion Post 27 and the Gallipolis VA Clinic.
In addition, this year the committee, with the help of OVB employees, was able to donate $555 in gift cards to the Hershel "Woody" Williams Fisher House. The cards will be used to provide financial assistance to family members of veterans who are receiving medical care during their stay at the facility. Currently, the committee is collecting donations of new socks, house shoes and slippers. Donations can be dropped off at any OVB location.
Another annual event is the Veterans Day Luncheon. This year's luncheon took place today at the OVB Annex. The luncheon is another effort to thank local veterans by serving them a free meal.
All of our Veterans Action Committee members have personal reasons for joining the group.
Richie Spiers, OVB assistant vice president facilities/security, chose to join the committee because he wanted to help local veterans.
"It is important to help those that have helped give us our freedom," Speirs said.
Like Spiers, Jenni Swain, OVB marketing project manager, joined the committee because she wanted to help veterans.
"Our veterans have given so much to our country and continue to give back to their communities that they live in. I wanted to be part of giving back to them. I wanted to let them know that they are cherished, admired and appreciated," Swain said. "Many of our veterans continue to fight a battle long after the war is over, whether it be emotional, physical or mental. I want to lift them up and help to lighten any burden they may still be struggling with, even if it's by simply listening to stories of days gone by and serving them a hot plate of food.
Shelly Boothe, OVB vice president, commercial lender/business development, also joined the committee as it was a way to honor veterans.
"I have great respect for veterans have always enjoyed working with and being around those that have served our country. I have several family members who have served, including my dad and my grandfather," Boothe said. "When someone is willing to sacrifice not only their time and their energy but possibly their life to protect us and our freedom, we should give back every change we get."
Boothe also described serving in the military as a type of selflessness that should be both celebrated and appreciated.
"Our veterans know what it means to love their country, and that type of thinking is exactly what we want in our community," she said.
Leigh Anne Roten, customer service representative II at the OVB Barboursville Office, also shares family connections to veterans. She described Veterans Day as a wonderful time to reflect on those who have made our freedoms possible.
"Veterans Day is a time when we can honor the men and women who have sacrificed for our country. Those making the ultimate sacrifice definitely deserve to be honored and remembered for the life they gave," Roten said.
Terri Camden, OVB assistant vice president, assistant director of human resources, also shares a family connection to veterans.
"My dad is a veteran and I was an 'army brat' growing up. These men and women have made sacrifices most of us will never have to do, and I want them to know how much they are appreciated," Camden said. "Helping area veterans is important to me personally because I also have several family members who have served our country in different branches of the military. It's important to show our appreciation to those who keep us safe and ensure our freedoms."
Hanna Porter, human resources generalist, is proud to be a member of the committee as her husband is a veteran.
"I hold a very high respect for all veterans and it's important to me that I show that respect and the honor that it is to have these brave men and women in our community by volunteering when the opportunity arises," Porter said. "When my husband and I were just fresh out of high school and was a brand new Marine, the military community really took us in and we formed a whole second family for us away from home…To me personally, Veterans Day reminds me of the love, kindness and sense of community that was shown to not only us but many other new incoming military families. I am forever thankful of that and want to make sure that I can give back to them like they did for us."
Kayla Mollohan, corporate lending assistant, joined the Veterans Action Committee because she saw it as a good way to give back to veterans.
"Helping the veterans is important to me because they have sacrificed so much for our freedom that I want to give back as much as I can," she said. "Veterans Day to me is honoring those who have served or sacrificed their lives to protect ours."
Diana Parks, OVB vice president, audit liaison, echoed Mollohan's reasoning behind joining the Veterans Action Committee.
"I think all Americans should always remember the true sacrifice our veterans make. They live a disciplined life so that we do not have to. They go off to war to ensure our freedom and protect our way of life. They are heroes and deserve to be honored, recognized, supported and appreciate for what they have done," Parks said.
Heather Moore, loan clerk II, like many committee members, also shared a family connection to veterans. Moore said that in addition to family members who were in the service, her daughter's father also served tours in both Iraq and Afghanistan. She described veterans as the backbone of the nation and said that Veterans Day is a great time to honor their sacrifices.
"Veterans Day means honoring those that are still with us and those who are no longer with us. It means remembering that because each and every veteran has made us be part of the land of the free," Moore said.
Kim Broyles, call center specialist, also shared a close connection to veterans. Broyles husband served in the Navy, which is why she saw the Veterans Action Committee as a great way to support both veterans and active military.
"I believe that our veterans are very important and we need to show them the support they deserve," she said. "Veterans Day means reflection. A time to reflect on our freedoms that helped us to obtain and it is a time to believe in the future of our country."
Kayla Roush, administrative assistant, retail lending processing lead, joined the Veterans Action Committee as she saw it as a great opportunity to help veterans at the local level. The annual OVB Ruck Walk is also one of Roush's favorite events hosted by the committee.
"I believe it is important to help our veterans because without them we wouldn't be here," Roush said. "Veterans Day fills me with pride for my country and fellow Americans. It is a day to show our veterans how much they mean to us."
Kevin Blazer, loan clerk 1, chose to join the Veterans Action Committee as he has an immense adoration and love for our service men and women.
"Helping our area veterans is important to me because of the sacrifices made to protect our freedoms and our homeland. In my opinion, there is no greater honor than to return the blessing to someone who has given so much. Anytime I see a service man or woman, I thank them for their service to our great country. I feel at times it is something that is taken for granted. We are a blessed nation."
Other members of the Veterans Action Committee includes Jami Cox, installment loan operations supervisor; Brian Hall, OVB vice president, corporate banking; Misty Clagg, senior human resources generalist/payroll administrator; Maranda Prevatt, OVB Barboursville branch operations manager; Cristobal Encina, human resources generalist I; and Larry Russell, maintenance specialist, administrative services.
Stay tuned for upcoming OVB Spotlight features to get to know more about your community bankers.