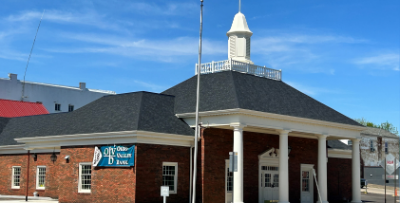 June 26, 2023
WAVERLY, Ohio - Ohio Valley Bank's Waverly Office has now moved to a new location. The new office, located at 197 East Emmitt Ave. in Waverly, was completely renovated prior to the move. The 5,000 square foot facility offers additional space as well as more modern features.  

To celebrate the new location, OVB will host a grand opening event 9 a.m. Wednesday, June 28. As per the bank's tradition, a money ribbon will be used for the ceremonial ribbon cutting. The ribbon will be donated to the Pike County Children's Christmas Fund. Along with getting a look at the new facility, those in attendance will enjoy refreshments catered by The Village Brew.

The new office officially opened for business on June 20. Leading up to the grand opening, customers can enter to win two $150 prizes as well as gift cards for local businesses. Prize winners will be announced during the grand opening.

Lobby hours for the new location are 9 a.m.-4 p.m. Monday-Thursday, 9 a.m.-5 p.m. Friday and 9 a.m.-noon Saturday. Drive-thru hours are 8 a.m.-6 p.m. Monday-Friday and 8 a.m.-noon Saturday.
Ohio Valley Bank, which operates 17 offices and was established in 1872, is a FDIC-insured community bank based in Gallipolis, Ohio, and is a state member bank of the Federal Reserve. Common stock for the bank's parent company, Ohio Valley Banc Corp., is traded on The NASDAQ Global Market under the symbol OVBC. More information can be found at Ohio Valley Bank's website at
www.ovbc.com
.