November 3, 2023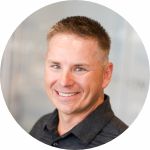 BARBOURSVILLE – Ohio Valley Bank recently announced the promotion of Chris Preston to Senior Vice President, Growth Strategist, Ohio Valley Bank, and Vice President of Ohio Valley Banc Corp.
Preston, based at OVB's Barboursville and Milton, W.Va. locations, began his career at the bank working as a teller at OVB's Jackson Pike Office in 1998. He later relocated to the Jackson Office, where he took on new roles before moving to the Milton Office. Preston was a key member in helping to grow OVB's customer base in the Cabell County area. During this time, he also found his passion for lending and was eventually named a bank officer. In addition, Preston worked with the bank's business development efforts.
In his new role, Preston described utilizing the bank's Community First mission as being at the heart of his goals.
"I am looking forward to working with employees across the organization to help promote our Community First initiative and strengthen our relationship with existing and new OVB customers," he said. "I want to continue to grow as a banker and leader with the company as well as help OVB employees make a difference within the communities we serve."
Preston is a graduate of River Valley High School. As a 1993 graduate, Preston is also a member of the school's inaugural graduating class. Professionally, Preston has completed several programs and seminars with both the Ohio Bankers League (OBL) and the West Virginia Bankers Association. He is a graduate of the West Virginia Bankers Emerging Leaders, the OBL Harry Blythe School of Banking and the OBL Bank Leadership Institute.
In his community, Preston is very involved. He currently serves on the Boards of the Cabell County School Foundation, Milton Rotary and Ronald McDonald House. He also is the current president of the Guyan Golf and Country Club. He is a member of the Business Network International and previously served as president of the organization. Preston was also very involved with the Cabell County Fair Board, where he served as president, as well as a board member of Huntington Habitat for Humanity of the Tri-State.
Preston currently resides in Cabell County with his wife of 17 years, Tiffany; son, Colton; daughter, Chloe; and two guinea pigs, Oreo and Poppy.
Ohio Valley Bank, which operates 17 offices and was established in 1872, is a FDIC-insured community bank based in Gallipolis, Ohio, and is a state member bank of the Federal Reserve. Common stock for the bank's parent company, Ohio Valley Banc Corp., is traded on The NASDAQ Global Market under the symbol OVBC.