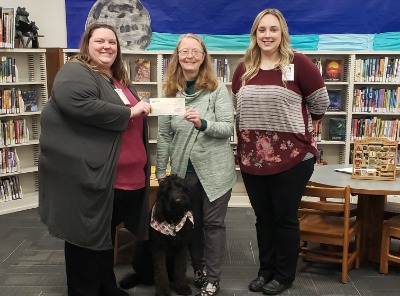 We were proud to once again donate to the Jackson City Library's Summer Reading Program!
School is out and the warm days are back again. That can only mean one thing: summer has arrived!
While summer is a great time for vacation getaways, there are also many local events for all ages to enjoy. In fact, many activities are already underway or kicking off this weekend.
Tomorrow in Point Pleasant, W.Va., the American Countess will be docked at Riverfront Park. If admiring river boats isn't your thing, you can also check out the Antique Tractor Pull at the West Virginia State Farm Museum, also located in Point Pleasant. The event will begin at 5 p.m.
Also taking place this weekend is an opportunity for adults to relive a childhood past time with the Gallipolis, Ohio Bossard Memorial Library's Color Me Happy! Class. The class, which is open to adults ages 18 and up, will begin at 10 a.m. tomorrow. Each attendee will receive three coloring sheets of the library's choosing. Participants may choose to color during the session or take their projects home. For more information on this event as well as other summer library programs, call 740-446-7323.
In Rio Grande, Ohio, the Rio Farmers Market will be set up at the Twisted Vine Family Winery. The event, which begins at 4 p.m. tomorrow, will feature vendors, food and live music. At Pullman Square, located in Huntington, W.Va., the Farmer's Market will be set up from 8 a.m.-2 p.m. every Wednesday and Saturday now through Sept. 8. In addition to booths, there will be free concerts during the evening featuring a variety of musical styles.
In Waverly, Ohio, The Pike County YMCA will host their annual yard sale tomorrow from 8 a.m.-2 p.m. The yard sale is one of the many events hosted by the YMCA. Plans are already underway for the YMCA's other summer tradition, the 8th Annual Mud Volleyball Tournament, which is slated for Saturday, June 25. Participants ages 18 and older are welcome to take part. For more information on these events and additional Pike County YMCA programs, call 740-947-8862.
In Jackson, Ohio, the Jackson City Library Summer Reading Program will begin Wednesday, June 8. The program, which OVB has supported annually through donations, is a great opportunity for children to hone their reading skills as well as enjoy various events. The June 8 event will feature a bicycle rodeo. Those wishing to participate are encouraged to pick up a Summer Reading Passport from the library. Participants will be able to get their passports stamped throughout the summer and earn a prize. Participants will also be entered in the grand prize drawing. For a full schedule of Summer Reading Program events and more information, contact the library at 740-286-4111.
The Racine Public Library will also host a Summer Reading Program, which kicks off Wednesday, June 8. The kick-off event will take place from 2-4 p.m. and will feature an inflatable slide, bounce house, bubbles, ocean craft stations, outdoor activities and more. The program will continue through July 22 with various events. For more information, contact the library at 740-949-8200.
As our area is rich in history, The Living History Nights offer a great opportunity to learn in an interactive format this summer. Living History Nights will take place at the Bossard Memorial Library and are presented by the Gallipolis Chautauqua Committee. The first Living History Night will begin at 6:15 p.m. Thursday, June 9 with music by local musicians. The performance will follow at 7 p.m. Each Living History Night will showcase a scholar, who will assume the role of a notable historical Ohioan. The performance will include a monologue based on the life of that individual with a question and answer session to follow. For more information, visit https://www.facebook.com/GallipolisChautauquaCommittee.
Our own Ohio Valley Bank Point Pleasant North Office will host a special customer service day to welcome summer on Friday, June 10. The event will run from 10 a.m.-4 p.m. and will feature giveaways for folks who stop by as well as a chance to enter for an OVB Prize Pack. Continue to check the bank's Facebook page for information on upcoming branch events.
On Saturday, June 11 and Sunday, June 12, art enthusiasts are welcome to visit Ritter Park in Huntington, where local artists will be showcasing their work as well as doing demonstrations. The event is free for all ages and will run from 10 a.m.-5 p.m. Saturday and noon-5 p.m. Sunday. Even dogs are invited to attend!
The Hoop Project will return to Gallipolis next month as well. The event, set for July 16-17, will take place from 8 a.m.-5 p.m. at the Gallipolis City Park. The three on three full court basketball tournament registration is now open and there are divisions for multiple age groups. For more information, contact event organizers at 740-309-1452.
On-going events this summer also include the Photo Scavenger Hunt, featuring the Bob Evans Farm and hosted by the Gallia County Convention and Visitors Bureau. The event, which runs now through Aug. 5, is both free and open to all ages. Anyone who completes the hunt will receive a fun prize as well as be entered to win an iPad. For more information and to download the scavenger hunt form, visit www.VisitGallia.com. Also in Gallipolis, First Fridays are back in action. First Friday is part of the Downtown Revitalization Project and features an opportunity to support local businesses as well as enjoy food and various community activities.
As we get into summer, more events and festivals are likely to be announced. To stay up-to-date in your community, contact your local tourism center. For upcoming Independence Day celebrations, check back here in a few weeks as part two of this event series will showcase our area's patriotic celebrations.
From all of us at OVB, have a fantastic summer!