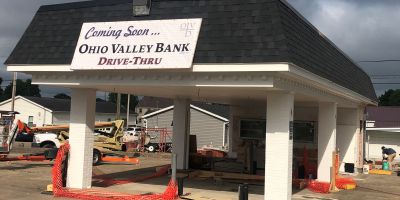 June 11, 2021
POINT PLEASANT, W.Va. – Ohio Valley Bank is expanding their footprint in Mason County with the opening of the Point Pleasant North Office. The new office will feature a drive-thru only banking experience.

The Point Pleasant North Office is located on Jackson Avenue in the former Peoples Bank drive-thru facility. The location, which is next door to Fruth Pharmacy, received an expansion bringing the new branch to 320 square feet. The branch will feature three drive-thru lanes as well as one drive-up ATM lane along with night deposit access.

Allen Elliott, OVB senior vice president, branch administration, described the Point Pleasant North Office as another resource to better serve the bank's Mason County customers.

"Ohio Valley Bank is very excited to provide a convenient location in the northern end of Point Pleasant. The Point Pleasant North Office is an important piece of our branch network strategy to bridge our southern Point Pleasant Office and our Bend Area Office in Mason," Elliott said.

At this time, the branch is projected to open next month. Once open, hours will be 8 a.m.-6 p.m. Monday-Friday and 8 a.m.-noon Saturday.
Ohio Valley Banc Corp. owns the subsidiaries of Ohio Valley Bank, with 15 offices in Ohio and West Virginia, and Loan Central, with six consumer finance offices in Ohio. Ohio Valley Bank, established in 1872, is a FDIC-insured community bank based in Gallipolis, Ohio, and is a state member bank of the Federal Reserve. Common stock for Ohio Valley Banc Corp. is traded on The NASDAQ Global Market under the symbol OVBC. More information can be found at Ohio Valley Bank's website at www.ovbc.com or Facebook page at
www.facebook.com/OhioValleyBank
.