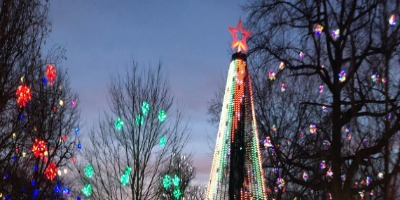 December 15, 2021
It's the most wonderful time of the year. From twinkling lights to the smell of cookies and cocoa, we are officially in the thick of the holiday season.
From light shows to special events, our region offers plenty of opportunities to get into the Christmas spirit. Tom Wiseman, Ohio Valley Bank chairman of the board and CEO, described seeing our communities light up with the holiday season as being very special.
"The last couple of years have been quite challenging for most of us, but I can't help feeling a sense of hope as we begin the Christmas season. As I watch the decorations go up and experience the enthusiasm shared by those working so hard to prepare our cities, workplaces and homes, it fills me with joy and thanksgiving. The spirit of Christmas lifts us all and provides hope for a brighter future," Wiseman said. "I wish you all a very Merry Christmas."
When it comes to light shows, there are many local offerings. Gallipolis in Lights, located across the street from our very own OVB on the Square, has quickly become one of Ohio's most visited holiday experiences and has again been voted one of the best light displays in Ohio.
The lights, which adorn the Gallipolis City Park, make visitors feel as if they have stepped into their own Christmas movie. Santa even makes appearances. This family event is made possible by donations and the work of dedicated volunteers. Gallipolis in Lights is open now through Jan. 2, 2022.
Across the river in Point Pleasant, W.Va., The Christmas Fantasy Light Show at Krodel Park is open every evening now through Dec. 31. The drive-thru show features animated displays. The West Virginia State Farm Museum, located adjacent to the Mason County Fairgrounds in Point Pleasant, provides another opportunity to check out lights with their Christmas Light Show and Drive-Thru. The event runs from 6-9 p.m. nightly through Dec. 20. Point Pleasant also features an opportunity to see Christmas trees, which adorn Gunn Park, giving the iconic Mothman statue a festive backdrop.
Also in West Virginia is the Barbourville Village of Lights, which is open nightly from 6-9 p.m. The event takes place at the Barboursville Park. While you visit be sure to check out the new, long roller coaster display, which OVB was proud to donate funding for.
In Wellston, Ohio, the OHillCo Lights Display, located at Pride Park, is sure to put you in a festive mood. You can also check out our OVB tree, decorated by our Wellston team of community bankers!
If Christmas trees are your thing, the Christmas Trees in the Park event in Oak Hill, Ohio, should go on your holiday to-do list. Our Oak Hill office even decorated an OVB tree for the occasion. Jackson County offers more tree fun at Manpower Park with the Christmas in the Park event. Christmas in the Park features a variety of trees decorated by various organizations and businesses. The event is also an opportunity to check out another OVB tree, which was decorated by our Jackson office community bankers.
In Rio Grande, Ohio, the 'Grande' Christmas tree is also a sight to see. The large tree, which measures 43 feet tall, is a new addition to the village's holiday festivities. 
We are feeling the holiday spirit here at OVB as well. On Friday, Dec. 17, our Rio Grande Office is hosting a special Customer Appreciation Day event, where folks will receive a holiday treat while supplies last. The event is scheduled to run from 9 a.m.-2 p.m.
Santa Claus himself is also making a visit to our downtown Gallipolis Mini Bank, located on Fourth Avenue across from Washington Elementary, on Dec. 17 from 11 a.m.-1 p.m. In addition to Santa, our Mini Bank team will be giving out sweet treats.
The OVB Banking Center at Holzer will be participating in Holzer's Elf Day on Dec. 17. There will be cookies, candy and hot cocoa to enjoy. In addition, there will be an opportunity to win a $100 gift card!
Our newest branch, OVB Point Pleasant North,  will be handing out sweet, festive treats on Thursday, Dec. 23.
If you are feeling too busy with Christmas shopping to enjoy the area festivities, check out the OVB Community First Holiday Gift Guide . The guide features great deals as well as an opportunity to support local businesses.
From all of us at OVB, we wish you Merry Christmas and blessed holiday season!
*The OVB events listed above are as of press time for this article. To view all current upcoming events, go to our Events page.