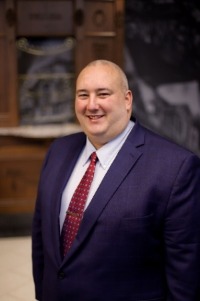 February 7, 2022
GALLIPOLIS, Ohio – Ohio Valley Bank recently announced the promotion of Brandon Huff to senior vice president, process efficiency officer. Huff will also now serve as vice president for the Ohio Valley Banc Corp. (OVBC) as well.

Larry Miller, OVB president and chief operating officer, described Huff's extensive knowledge of the bank's operating systems as making him extremely qualified for his new position.

"Throughout his 14 plus year career at OVB, Brandon has served in various information technology roles and has remained a lifelong learner. His education coupled with his knowledge of the bank's various systems make him uniquely qualified for this position," Miller said.

Huff began his career at OVB in 2007 as an intern in the IT department. He is a 2002 graduate of Fairland High School and a 2008 graduate of Marshall University, where he obtained a bachelor's degree in business administration management information systems. This past December, Huff graduated from Louisiana State University with a master's degree in business administration, with emphasis in emerging technologies. Huff is also an Ohio Bankers League (OBL) Bank Management School graduate and an OBL Leadership Institute graduate.

During his time at the bank, Huff also received the Joycelyn M. Barlow Award of Excellence, OVB's highest honor. Huff has also received a teller achievement award as well as various incentive awards.

Huff currently resides in Huntington, W.Va. with his wife, Angela, and his daughter. He serves as a board member for the Marshall University Alumni Association. He is also a member of First Baptist Church in Proctorville.