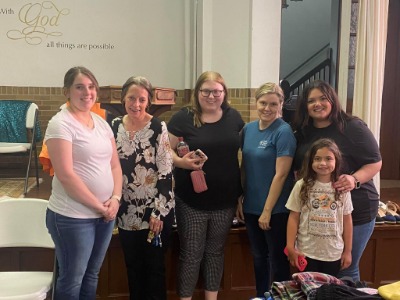 Sept. 13, 2023
Ohio Valley Bank's Carrie Dugan not only prioritizes her customers, but she also takes the bank's Community First mission to heart. Dugan, an associate consumer loan officer based at the OVB Offices in Oak Hill and Jackson, has worked in the banking industry for eight years.
Dugan, a graduate of Jackson High School, brings a local connection to the area. She earned her bachelor's in business management from Truett McConnell University, where she discovered her love of numbers and lending. She joined the OVB team in 2022 as she longed to work for a local bank that also places emphasis on community involvement, which perfectly aligns with her passion to serve others.
As building connections within the community is important to her, Dugan prides herself on both establishing and maintaining relationships with her customers. She enjoys helping folks get their very first loan to make their dreams of owning a home or car come true. Outside of her professional life, Dugan continues to immerse herself within the Oak Hill area. From volunteering with the local schools to helping with other local organizations, Dugan truly feels a strong desire to see her community thrive.
Volunteering for the Oak Hill High School Athletic Boosters is how Dugan spends much of her time when she isn't assisting her OVB customers.
"The Oak Hill Athletic Boosters is a unique booster club because with the size of our village – we are more than just an athletic booster. We have an annual spring carnival that we started last year. We have also been fortunate to have many business sponsors for the carnival, which has allowed us to have free entry for all Oak Hill students. The carnival also has a magic show, a face painter and games hosted by our varsity athletic students," Dugan said.
Dugan added that the boosters organize and fund Oak Hill's Fourth of July celebration, where they host a softball tournament, baby contest, fireworks, entertainment and a concession stand. This particular event is very special to Dugan on a personal level.
"The reason I was drawn to the athletic boosters was because as a child my family was poorer than most and the Fourth of July was always a celebration. We went to Oak Hill every single year to celebrate," she said.
Growing Oaks is another community organization near to Dugan's heart. Dugan especially enjoys volunteering for the cause as her daughter is also involved with the organization.  According to Dugan, Growing Oaks was created to assure that no student goes hungry. 
"My daughter has helped with food pickup and volunteered with the Growing Oaks. As she saw a need, she decided to do something more," Dugan said. "We now organize a semi-annual clothing giveaway to give slightly used clothing to students who benefit from Growing Oaks."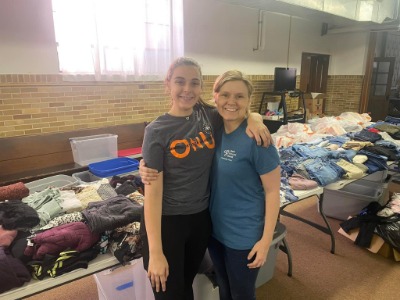 Dugan added that Growing Oaks also conducts clothing donations at the beginning of each academic year and prior to Christmas. New for this year, Dugan is organizing a Growing Oaks event for the Thanksgiving holiday.
"This will be our first year, but we expect to feed the 40-50 families that have requested help through the Growing Oaks. We will provide a complete Thanksgiving dinner to the families so that they may cook and have the traditional holiday without worrying about the cost," she said.
You can support Growing Oaks by upgrading to the Oak United Community First Debit Card. For more information on our Community First cards, click
here.
Another passion project for Dugan is her work through Compel Ministries, a charitable organization based in Wellston. Dugan works with her fellow OVB lender and friend, Samie Perkins, to assist with the organization's annual back to school giveaway.
Dugan plans to organize another food drive this coming winter. While she is certainly busy, Dugan wouldn't have it any other way. She stressed that she volunteers out of a desire to help and grow her community. She encouraged others to find a local cause they are passionate about.
In the little free time she has, Dugan still stays active as a band mom. She also enjoys cheering her daughters on at their cross country meets. 
Make sure to like and follow Dugan on Facebook,
here
.