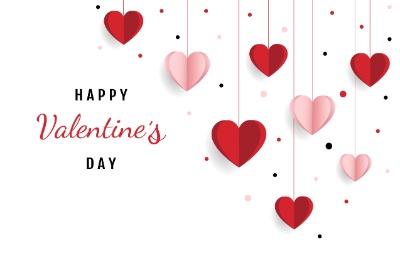 February 14, 2023
Happy Valentine's Day! This holiday might be viewed by some as a scheme to sell more greeting cards and overpriced candy. Other folks probably enjoy the cheesy romance of it all. Whether or not you plan to celebrate or are just looking forward to the discounted chocolate on Feb. 15, Valentine's Day can be a valuable time to have important financial discussions with your partner.
One of the most common feuds among couples revolves around money. Financial issues are often a source of stress for many individuals, but they can also put a strain on relationships as well. In honor of Cupid's day, set aside that box of chocolates and take a break from the conversation heart candies while you read these tips on how to not let your finances put a damper on romance:
Secrecy is not romantic. Hiding your financial situation is not healthy and can create more problems in your relationship by fueling distrust. Communicating honestly about your financial situation will put you and your partner on the same page so that you can combat any issues that arise together. Remember, you are a team!
Teamwork makes the dream work. Consider building your budget together. By doing this, you will be on the same page regarding the current status of your finances. Check out OVB's Benjamin Tracker to help plan your budget, understand your spending habits and set future goals.
Avoid the income difference dispute. For many relationships, it is quite common for one person to earn more money. Unfortunately salary differences among partners can sometimes be a source of friction that leads to arguments. Rather than letting your income differences divide, remember that you are a unit. Be open and work together to create common goals.
Share responsibilities. Another way to avoid the income dispute is to divide household duties. For example, if you are working late on a project, devise an agreement with your partner to have them handle dinner that night. Does your partner get up earlier than you for work? Perhaps offer to help put the kids to bed that evening.
Face debt together. When you agree to spend your life with someone, you become a unit, which includes possibly acquiring more debt. Rather than being resentful, work together on how you can combat the situation. Financial discussions about your partner's credit score may not be romantic, but it can help alleviate stress as you work on your common goals, such as buying your first home together or finally taking your dream vacation.
Understand spending habits. Individuals tend to have different approaches to spending money. Many folks develop their spending habits at a young age. Family influence typically plays a part in how we view finances as adults as well. For example, your valentine might have more conservative spending and saving practices, while you prefer the occasional splurge on gourmet dinners or luxury vacations. As you utilize Benjamin Tracker to understand your spending habits, look for compromises and solutions you both agree on. This could be as simple as agreeing to dine out once a month or setting a savings goal for that special vacation.
Plan your future together. Couples who make time to plan their future together tend to thrive. Shared goals will help you work together to meet them. Thinking about the future also can include family planning. Do you both want children? Do you want to budget for your dream home five years down the road? In addition, it is especially important for married couples to have an estate plan in place. Unfortunately, we never know when tragedy will strike. Having important documents in place, such as a living will and power of attorney, will help reduce stress if and when such circumstances should occur. Making sure your loved ones are taken care of in the future is one of the best gifts you can give to your forever valentine.
Now that we've covered the serious stuff, if you are looking for some budget-friendly ideas for Valentine's Day or just date night in general, we've got you covered. Here are some of our favorite loving, low-cost ideas:
Enjoy your loved one's hobbies.
Save on cards by making homemade valentines.
Look for movie deals or hit up a matinee.
Spend the evening in with a special, home cooked meal.
Turn your living room into a home theater experience. Choose a movie, pop some popcorn and you are good to go!
Take advantage of your OVB Visa Rewards.
From all of us at OVB, have a wonderful Valentine's Day!